In an industry that is increasingly defined by the ability to innovate, adapt, and produce consistent results, Keystone Industries is proud to introduce KeyPrint — a new line of precision 3D resins specifically formulated for the dental industry.
KeyPrint 3D Resins
Keystone has combined its unique blend of dental and photopolymer expertise to deliver the highest-quality 3D printing resins to the dental market, entirely designed and produced in the USA. Not only has Keystone been manufacturing premium dental products since 1908, but it has decades of experience as a leading producer of biocompatible, cutting-edge, patented photopolymer resins. These high-quality resins are designed for use in DlP printers using wavelengths from 385-405 nm and yield accurate, stable and strong printed parts.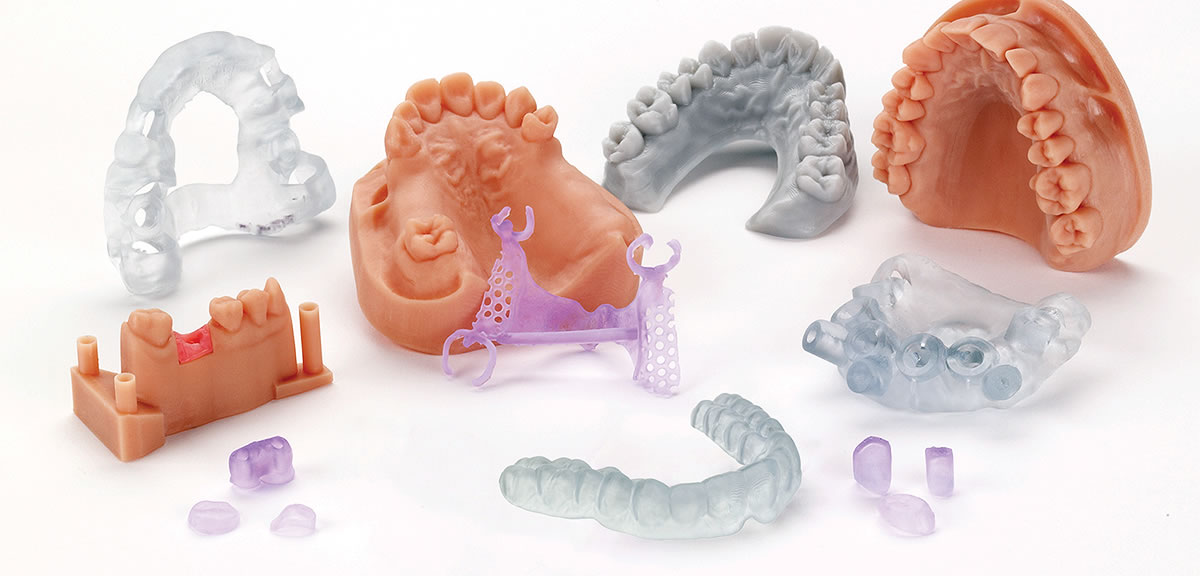 KEYSPLINT SOFT
Available in 1 kg
Utilizing unique patent-pending technologies, Keystone Industries has developed a one-of-a-kind 3D printing resin for the fabrication of flexible dental splints and nightguards. This DLP-optimized resin is an exceptional printing material, that combines the strength needed to protect teeth against disorders like bruxism with added flexibility for better patient comfort. KeySplint Soft is also resistant to stains and easily cleaned by the patient.
KEYMODEL
Available in 1 kg
Material produces highly-precise models with smooth, hard surfaces for optimal scanning
Colored for easy visibility of margins and tooth anatomy
Keystone's low-shrinkage formulation yields exacting models for crown, bridge or implant work
Perfect for forming thermoplastics such as: splints, sport guards and bleaching trays
KEYORTHOMODEL
Available in 1 kg
Designed for high-speed prints (150+μm z-axis layers) that are highly- accurate, hard and strong
Perfect for thermoforming orthodontic devices
Maintains stability when subjected to thermoforming temperatures
KEYMASK
Available in 0.45 kg
A flexible pink material that produces gingival masks to simulate the look and feel of gum tissue in restoration planning
KEYCAST
Available in 1 kg
For casting of crowns and partial dentures, this material produces a strong, porous-free 3D print that is resistant to fractures in even the finest of details
It burns out easily using existing ovens and work flows, with no residual ash, yielding detailed frames and accurate crowns
KEYGUIDE
Available in 1 kg
Biocompatible material for precise and transparent surgical guides
The print is strong and high-precision for optimal placement and drilling during surgery