VHF Camfacture AG has been making milling and grinding machines under private-label for companies around the globe and under it's own brand for thirty years. VHF dental milling and grinding machines are robust workhorses, designed to reliably withstand the stresses created during milling and grinding; especially of harder materials like chrome-cobalt, glass ceramics and PMMA.
VHF Trusted Workflows
VHF offers a fully integrated solution with validated workflows. Companies in the VHF group manufacture all components of the machines including the internal electronics, the milling and grinding tools, and the dental CAM that define the milling and grinding strategies. This ensures that outputs from the machines are exactly as expected and desired, making manufacturing processes predictable.
All VHF mills and grinders come included with DentalCAM7, VHF's complete CAM system with milling strategies for just about any element you can imagine.
K5 – Dry Milling Excellence. For any Indication.
The K5 is a 5-axis machine designed for precision and longevity. A massive bed of cast aluminum means the K5 is extremely stable during milling and as such is one of the few bench top machines robust enough to handle milling of chrome-cobalt. A special design creates an internal vacuum in the milling chamber, drawing damaging debris and powders away from the spindle, contributing to extended spindle life. The K5 b-axis will rotate up to 35 degrees, making the milling of thicker elements like models a snap. The higher rotation range also allows for the milling of discs up to 40mm thick.
UNPARALLELED PRECISION
Restorations in ultra HD
Premium spindle with 4-fold hybrid ceramic ball bearings for highest running smoothness
3 microns repetition accuracy
POWERFUL AND ROBUST
Mills the toughest materials on the market, including CoCr
500 watts of power and 60,000 RPM
Heavy industrial quality
MAXIMUM INDEPENDENCE
Unlimited material accessibility in 98 mm disc format, block and prefab holders available
Covers the broadest range of indications, due to ± 35° rotation angle in the 5th axis, and up to 40 mm blanks
Ideal for frameworks (RPD), full dentures, models, surgical guides and most other indications in prosthodontics and implantology
GERMAN RELIABILITY
100 percent engineered and manufactured in Germany
Sophisticated sealing concept to protect mechanics, electronics and spindle
vhf DentalCAM software for predictable results
Worry-free 24-month warranty
EXTREMELY ECONOMICAL
Optimized CAM strategies for faster milling
Long-life and high-precision vhf tools
Automatic tool changer for 16 tools
Unmatched price-performance ratio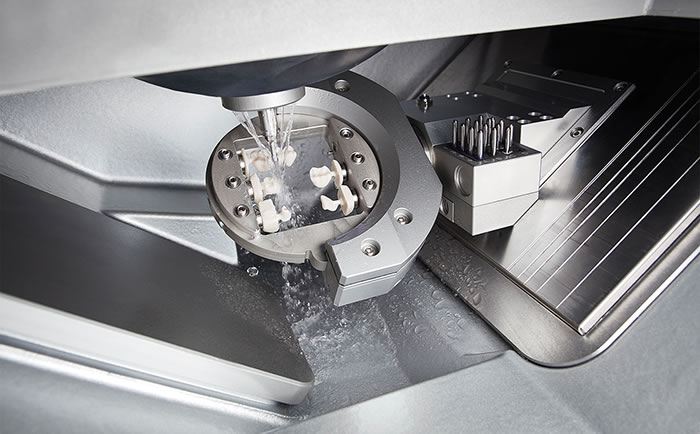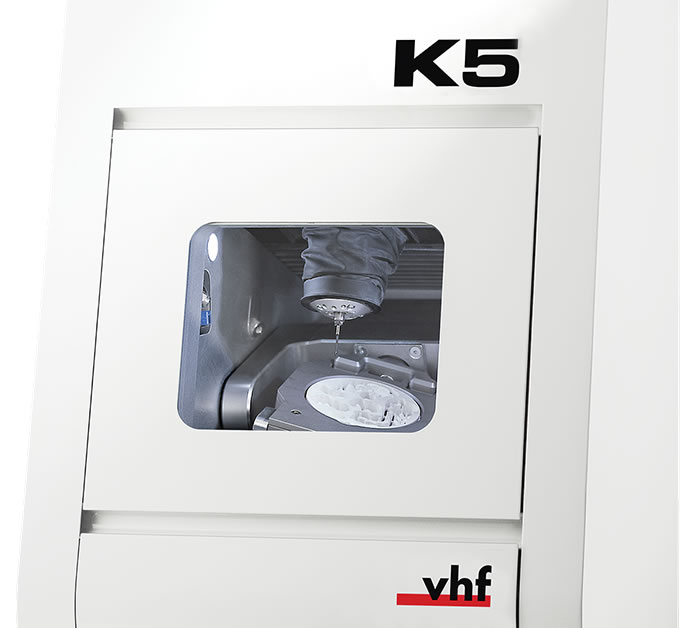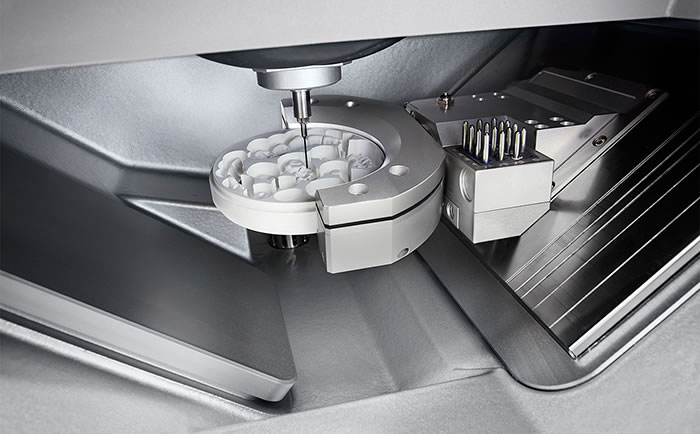 K5+ – The Global Best-seller. With even more Features.
THE K5+ COMES WITH ALL THE FEATURES OF THE K5, PLUS:
Webcam for remote support
Ethernet for stable long-range connection
Ionizer and improved air circulation for easy machine cleaning
DirectDiscTechnology for revolutionary disc clamping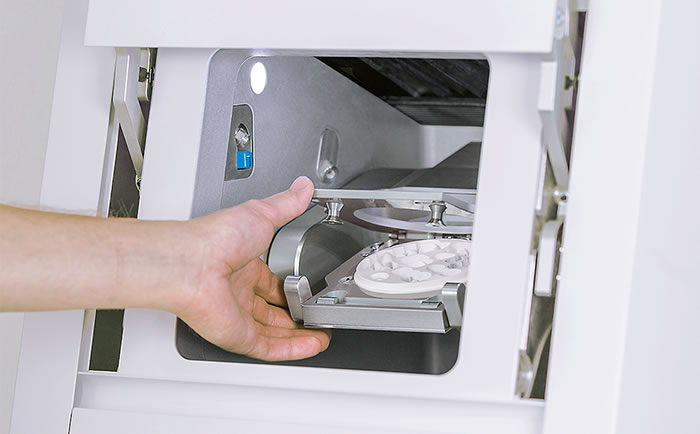 N4 – Wet Grinding without Compromises
The N4 is a compact 4-axis wet grinding machine suited for the production of glass ceramics, zirconia and tita- nium. The N4 has a fully integrated liquid cooling system, simplifying the overall equipment needs and setup.
EXCEPTIONAL PRECISION
Restorations in ultra HD
Premium spindle with 4-fold hybrid ceramic ball bearings for maximum running smoothness
3 microns repetition accuracy
SOPHISTICATED DESIGN
Eight fluid nozzles for even tool cooling
High speeds of up to 60,000 rpm
Heavy industrial quality
ABSOLUTE INDEPENDENCE
30 block materials from 12 manufacturers – and rising
> 140 titanium and CoCr prefabricated abutments from 11 manufacturers
Ideal for the laboratory and the practice lab
VALIDATED RESULTS
Researchers at Washington University have confirmed exceptional precision of –10 μm and +26 μm with challenging titanium milling
MAXIMUM ECONOMY
Work on up to three blocks at the same time
Automatic changer for eight tools
Worry-free 24-month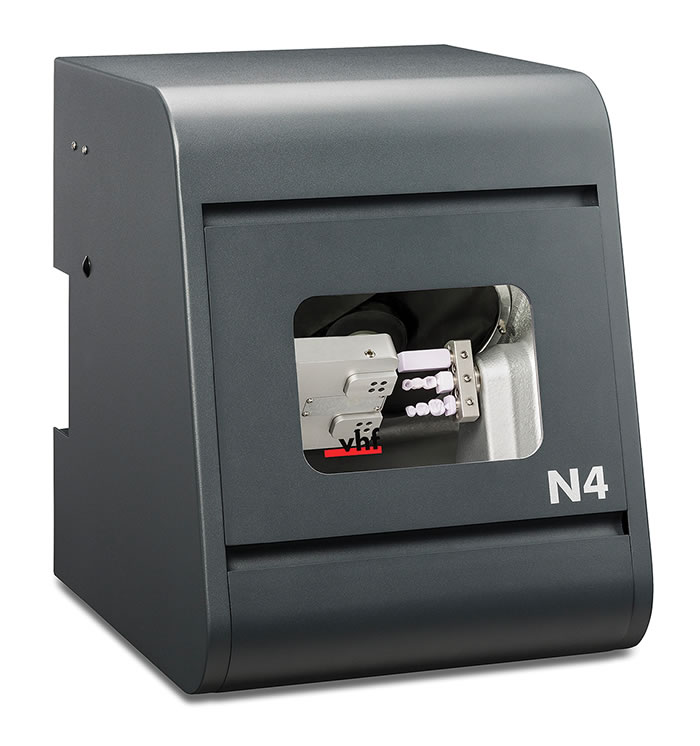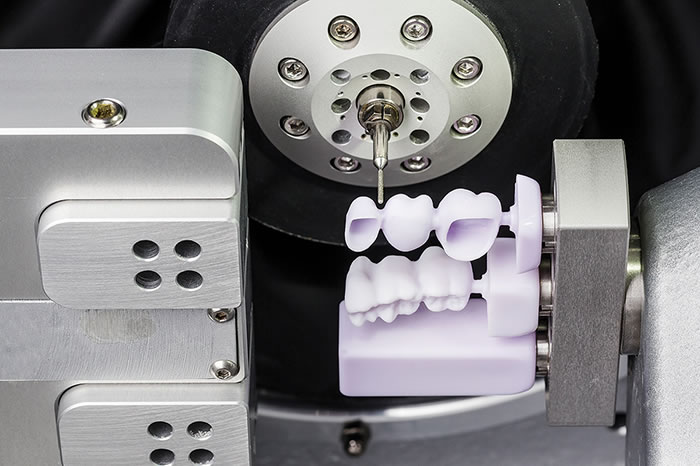 R5 – Simply Brilliant, your New Colleague in the Lab. Redefining Milling.
MAXIMUM PRECISION
Restorations in ultra HD
Water-cooled high-precision spindle
3 microns repetition accuracy
POWERFUL ROBUSTNESS
Mills and grinds the toughest materials on the market including all Ti and CoCr
800 watts of power and 80,000 RPM
Heavy industrial quality
ABSOLUTE INDEPENDENCE
Sheer unlimited material accessibility in 98 mm disc format, 30 block materials
> 140 titanium and CoCr prefab abutment platforms
Covers the broadest range of indications, due to ± 35° rotation angle in the 5th axis, and up to 40 mm blanks
HIGHLY ECONOMICAL
One of the fastest machines on the market
Revolutionary material loading with Direct Disc Technology (patent pending)
Automatic changer holds up to 10 discs, 60 blocks, or 60 prefab abutment blanks
Direct Clean Technology enables wet and dry on the fly: ionizer, self-cleaning and built-in dryer (patent pending)