VHF Camfacture AG has been making milling and grinding machines under private-label for companies around the globe and under it's own brand for thirty years. VHF dental milling and grinding machines are robust workhorses, designed to reliably withstand the stresses created during milling and grinding; especially of harder materials like chrome-cobalt, glass ceramics and PMMA.
VHF Trusted Workflows
VHF offers a fully integrated solution with validated workflows. Companies in the VHF group manufacture all components of the machines including the internal electronics, the milling and grinding tools, and the dental CAM that define the milling and grinding strategies. This ensures that outputs from the machines are exactly as expected and desired, making manufacturing processes predictable.
All VHF mills and grinders come included with DentalCAM7, VHF's complete CAM system with milling strategies for just about any element you can imagine.
DentalCam 7
The manufacturing software has always been an important part of the vhf range of products – self-developed, an open import system and perfectly adjusted to VHF dental machines. VHF offers users even more convenience, options and fun while working with the software.
COMFORTABLE PLACEMENT AIDS
The software supports you in an optimal utilization of space on the blank and during setting or editing of bars, drops and sinter bars. The 3D nesting enables a very precise alignment of your elements –especially useful for multi-layer materials.
INTELLIGENT TOOL CHANGER
Usage of backup tools if the main tool is worn out or broken. The program regularly checks whether the tool is broken.
SPECIAL MACHINING STRATEGIES
Machining strategies are adapted to any kind of object: crowns/bridges, fully anatomical crowns/bridges, abutments, inlays, telescope crowns, veneers, implant- based bridge with divergent drillings etc.
CLEARLY STRUCTURED USER GUIDANCE
No previous knowledge necessary; operation via self- explaining icons and keyboard shortcuts for the most common functions; rotation of objects via scroll wheel.
DIRECT-MILL FUNCTION
While the milling paths of other objects or the finishing processes are still being calculated, the machine starts the roughing process. DentalCAM is available while the job is calculated and you can continue your work in the meantime.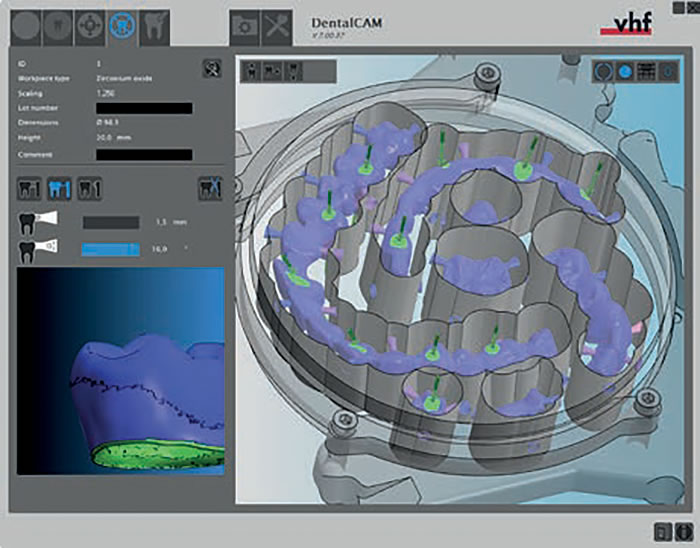 BLANK HEIGHT OPTIMIZATION
The automatic blank height optimization can rotate the object within the blank to optimally utilize the blank height utilized by an appropriate twist of the rotary axis – enabling you to use thinner blanks.
COCR, TITANIUM AND GLASS CERAMICS
It is possible to mill non-precious alloys on cobalt- chrome basis and titanium. For grinding glass ceramics, grinding strategies can be added via software extension.
COMFORTABLE CHOICE OF MATERIALS
Easily create new blanks or select a suitable used blank via the material archive with search and filter functions and preview images.